WHAT'S HAPPENING IN MANSON?
ANSWER.....A LOT!!
MACCenter features Youth Sports Hub!
 Thanks to the efforts of the Youth Cougar Club the MACcenter is now the home to two Youth Ball Fields.  Under the leadership of Brandon Bush and Dave Pearson the Youth Cougar Club was organized three years ago to create recreational opportunities for youth in Manson.  The Youth Cougar Club partnered with Manson NW Webster School and the City of Manson to turn their vision into a reality and this past spring/summer the new fields were enjoyed by youth baseball and softball players; hitting a homerun for the City of Manson.   Over $130,000 was raised through partnership, donations and grants.

Pickleball anyone?
Thanks to the generosity of former Manson residents, John and Gene Zook, the community can now enjoy the nations latest fitness craze of Pickle ball.  Brothers, John and Gene, generously split the cost of the court as a memorial for their younger brother Jerry Zook who passed away last year.  The 10th Street Courts now feature a basketball court, tennis court and pickleball court.  In the future the City of Manson will place a memorial bench at the courts in Jerry's memory.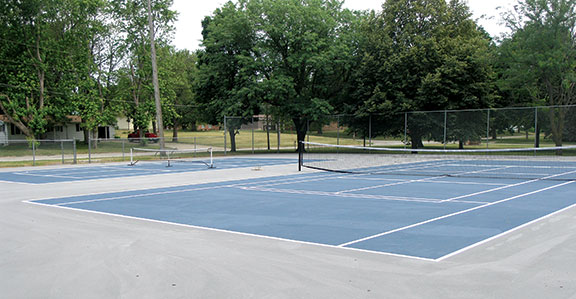 "Happy Trails" in Manson!
Seavert Trail Project is currently underway thanks to the generous donations received in honor of Doug and Nancy Seavert family.  The trail is being created to run through Manson north of Highway 7.
The "Heritage Trail" near Watertower Park in Manson offers inviting surroundings for a summertime stroll.  The trail was developed several years ago using old railroad beds as part of the path system which traverses near the butterfly garden on the east end of the Watertower park.